AUF AUGENHOEHE – Fashion for Little People
On this page you will find ready-to-wear fashion for little people. That's fashion that fits directly and no longer needs to be altered or changed. AUF AUGENHOEHE is the first company to develop ready-to-wear sizes for female and male little people, with which you can get your own clothing size and perfectly fitting cuts. Show us your AUF AUGENHOEHE look!
Tag your look with @aufaugenhoehe.design
FASHION FOR LITTLE PEOPLE – CLOTHES THAT FIT – #beAUFAUGENHOEHE
---
»FASHION IS WHAT EVERY BODY SHAPE SHOULD FIT TO.« – MICK M. MEHNERT, 133CM
BLOG
---
While parts of our lives have been put on pause during the pandemic, we've been given an opportunity to reflect on and imagine the changes we'd like to see in...
Lauren shares with us why International Women's Day is so important and what it can mean for marginalised groups. According to the United Nations, girls and women are among the...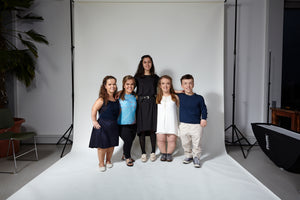 I came into contact with the topic of dwarfism at a very early age because my cousin Funda has dwarfism. When I visited her in Turkey and we went shopping...